---
At iWorQ Systems we're proud to announce our world-class Net Promoter Score (NPS) of 81! This incredible number reflects our dedication to delivering our clients the best software and service.
---
iWorQ has been a lead provider for Community Development and Public Works management software for more than 20 years, helping thousands of users across the country streamline their department processes. With our well-established reputation in the industry, it should come as no surprise that our customer's satisfaction is a driving force of our success. We're always looking for ways to make day-to-day tasks easier for cities while providing the best support.
---
We've surveyed hundreds of clients to get insight to ensure satisfaction. With a score of 81, our customers agree.
---
Here's what some of them had to say:
"The tech support has always been wonderful to work with. The customer service they provide is second to none! I would not change a thing!"

Brad from Illinois
---
"I am very satisfied by the excellent customer service I always receive when I contact the iWorQ support staff."

Julie from Idaho
---
"The staff is professional, personable, efficient, and responsive. They never leave me hanging. There is nothing you could do to make my experience better."

Laura from Maine
---
"Excellent product and excellent training."

Adaline from Nevada
---
"The iWorQ support team has always provided great customer service and has addressed all my concerns in a timely and professional manner. Thanks for all that you do, and keep up the great work. "

James from North Carolina
---
"The response for issues is amazing and I have recommended your company to several agencies. "

Shawn from Oklahoma
---
"Excellent support and great attitude"

Brad from Ohio
---
---
What exactly is a Net Promoter Score?
In short, A Net Promoter Score (NPS) is a metric developed by Bain & CO that's used to measure the customers' satisfaction, willingness to promote iWorQ's products to another agency, and a rating of their overall experience. The score itself can range anywhere from -100 to 100. A score above 0 is good, above 20 is favorable, above 50 is excellent, and above 80 is world-class.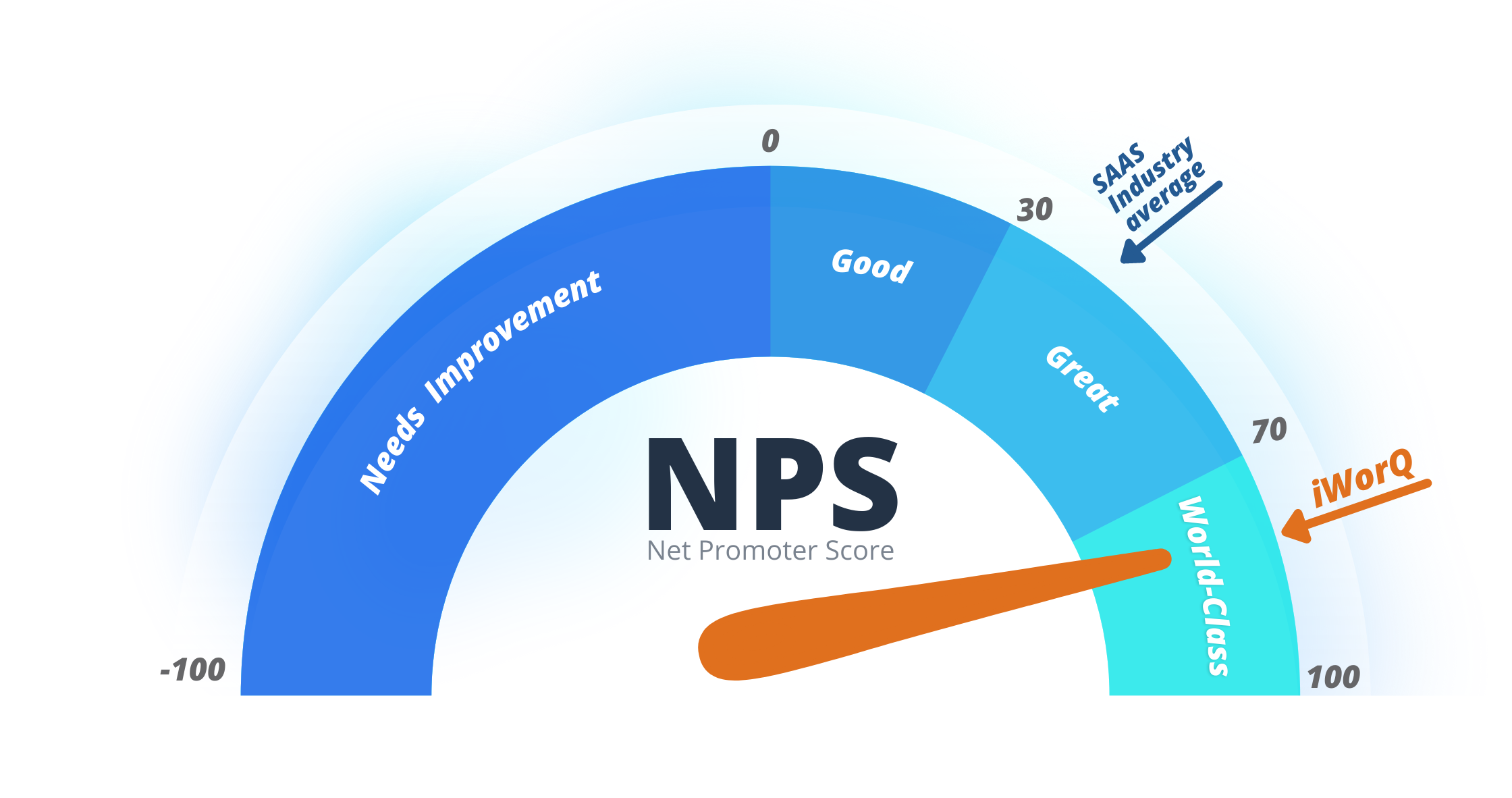 To give you a comparison. Most SAAS companies benchmark around a 40, so we are beyond thrilled to receive a NPS ranking of 81 and look forward to continuing to push the envelope forward in the software industry.
---
As a company, we know that customer satisfaction is paramount to delivering exceptional value and leading the industry. As such, we are committed to investing our efforts into keeping our customers satisfied and happy with municipal web-based software from a company they trust.
---
---
---
---
If you are looking to transform your agency with cloud-based software request a demo!
---