Browse iWorQ's Software Solutions
Explore iWorQ's wide variety of CMMS (Computerized Maintenance Management System) solutions.
iWorQ is committed to make serving your community easier & more efficient by providing web-based software applications to cities & counties like yours.
Our software is geared to helping Public Works and Community Departments Thrive, While Keeping the Public Sector in mind. Our Cloud-Based software allows agencies to track and manage work remotely.
---
iWorQ's community development & Public Works software is made to help simplify your day to day process. With relational data tables, the information you provide for one application transfers seamlessly into another, which saves you time.
Customized data fields let your agency view and track information in your own way. Unlike other software that may try to get you to alter your data to fit their system, we want to make sure your agency's needs are met by tracking the information of your choosing.
GIS data can be transferred into our software, giving you access in our mapping feature. The map allows you to run searches, change views, and to see all of your assets. You can work inside of the map by adding data to an asset while you're in the field.
Our account management & tech support teams always offer training to any new or existing employee at no extra cost.
Operated by U.S. Citizens on U.S. soil. | Vetted to ensure cloud solutions meet high compliance standards. | Protects sensitive information. | Hosts regulated workloads.
---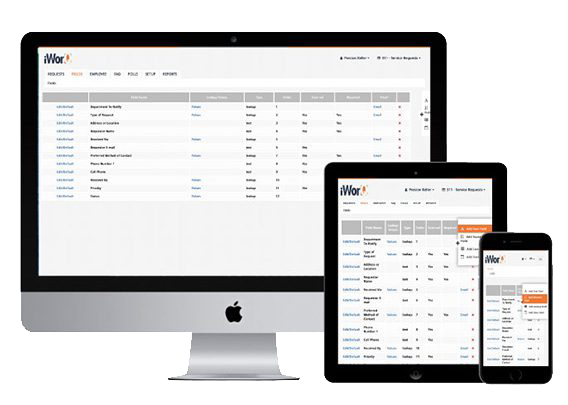 ---
Cloud-Based Software that works on any device.
Whether you are using a Phone, Tablet, or a Computer, you can take iWorQ Systems with you anywhere.

---
Citizen Engagement Software Review
Rating: 5 Stars (Awesome!)
"Makes work easier. iWorQ makes it easier to train new staff as well. My permit clerk got it down in 2 days. Enough said!"

---
Work Management Software Review
Rating: 5 Stars (Awesome!)
"This is an amazing application to have in their cities as it allows for unlimited resources to get the work done."

---
Permit Management Software Review
Rating: 5 Stars (Awesome!)
"Moved from Excel based spreadsheets 5 years ago to permit tracking management and has been amazing to utilize and work with."
---
We want to hear about your challenges. We have solutions.
Our team can show you the ins and outs of each application during an online, live webinar!
Fill out the contact form and we'll be in touch soon!
---
---
---
---
---
---
Our knowledgeable staff typically responds to requests on the same business day.
---
---
---