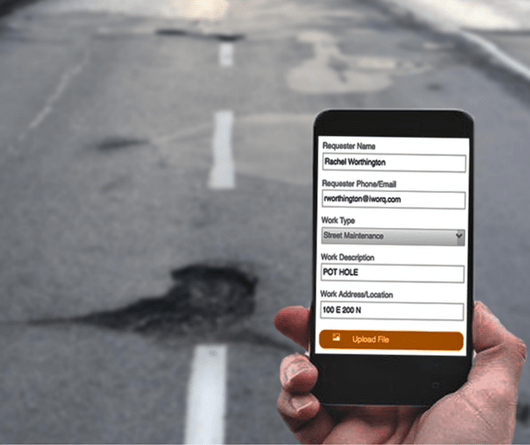 Citizen request app accessible from any web-based device.
---
This tool helps citizens and staff connect with one another with speed and efficiency. The application can be used for 311, citizen complaints, permit applications, code violations, inspection requests, or internal staff requests.
---
---
Customizable fields
Automatic e-mail to appropriate departments or personnel
Exporting of requests to other iWorQ applications such as Permit Management, Code Enforcement, or Work Management
Live statuses to keep your citizens and staff updated on the progress of the job or application
Uploading of pictures
The ability for citizens to include GPS coordinates
---
---
---
---
Citizens can download the mobile app or submit a complaint through your city website. This can help to discover problems within your community that need to be fixed such as potholes, signs, or overgrown vegetation. After the request is submitted, e-mails can be sent automatically to involved departments to notify personnel right away. Requests can then be exported to be created into a new work order or case.
---
Citizens and staff can save time on the permit application process by using Citizen Engagement. Citizens can designate what permit type they are applying for, the valuation, site address, and any other vital details. The application can be exported to iWorQ's Permit Management for the rest of the permitting process.
---
iWorQ's Citizen Engagement can help keep things organized within your agency's buildings. Problems can be submitted such as safety issues, routine maintenance, janitorial jobs, and special requests. The form can include where the problem is located, which department is involved, and how the staff member can be contacted.
Citizen Engagement Software Reviews
Average Rating: 4.3 Stars
---
what our clients are saying
---

Rating: 5 Stars (Awesome!)
---
---
"Makes work easier. Iworq makes it easier to train new staff as well. My permit clerk got it down in 2 days. Enough said!"
---

---
"Time saving in file management and a great part of workload. Being able to perform these tasks even while mobile or out of the office creates an highly efficient staff."
---

---
"The City of Holladay has gained a greater understanding of our residents' areas of concern and priorities as well as increased our ability to document infrastructure issues and improve the City staff response time."
"We have been able to serve our Citizens in a variety of ways, most notable, increasing our Road Life thru Pavement Management, better coordination of Citizen requests through Citizen Request and immediate ability to manage town emergencies."
---
---
We want to hear about your challenges. We have solutions.
Our team can show you the ins and outs of each application during an online, live webinar!
Fill out the contact form and we'll be in touch soon!
---
---
---
---
---
---
Our knowledgeable staff typically responds to requests on the same business day.
---
---
---