TextMyGov makes it easy for citizens to engage with their city/ county. This smart texting solution works with regular SMS texting. No app download needed. Citizens can find answers and report issues wherever they are. There's no need to wait on the phone or make a trip to city hall and stand in line. Smart texting provides citizens with a response instantly 24/7.
---
TextMyGov empowers citizens to get answers to their questions fast. Citizens can text in keywords such as Office Hours, and Contact. After the keyword is sent to the city's text messaging number, the information is immediately provided and relayed back to their phone. TextMyGov also has the power and functionality to direct citizens to links on the city's website, making it convenient to do things like Pay Utilities or make Park Reservations.
---
TextMyGov's Reporting feature allows citizens to report issues on the go. A citizen will simply text in a keyword, and TextMyGov will guide them through an automated process to submit their report. For example, if a citizen reports an issue, they might text in one of the following keywords: Report, Pothole, Animal Control, Safety Issue. They would then be prompted through a series of steps to provide more information, such as the nearest address, and can even submit a photo of the issue. Once a problem is submitted, it is sent to the appropriate department for review.
---
Aside from citizens being able to communicate with the city anytime, TextMyGov has a feature that allows the city to send out mass texts to citizens that opt-in for alerts. These texts could be anything from Road Closures to Council Updates to Community Events.
---
TextMyGov is easy to set up and saves time by simplifying agency work processes.
---
TextMyGov is not only a powerful communication tool for citizens to actively engage with their agency anywhere, but is also an excellent asset for government agencies. By having TextMyGov assist citizens with questions and issues. It reduces phone calls and saves agencies time. It enables employees to get more done in the day. Overtime incorporating smart texting processes, cities can make huge strides.
---
---
---
/
BLOG POSTED: November 17, 2020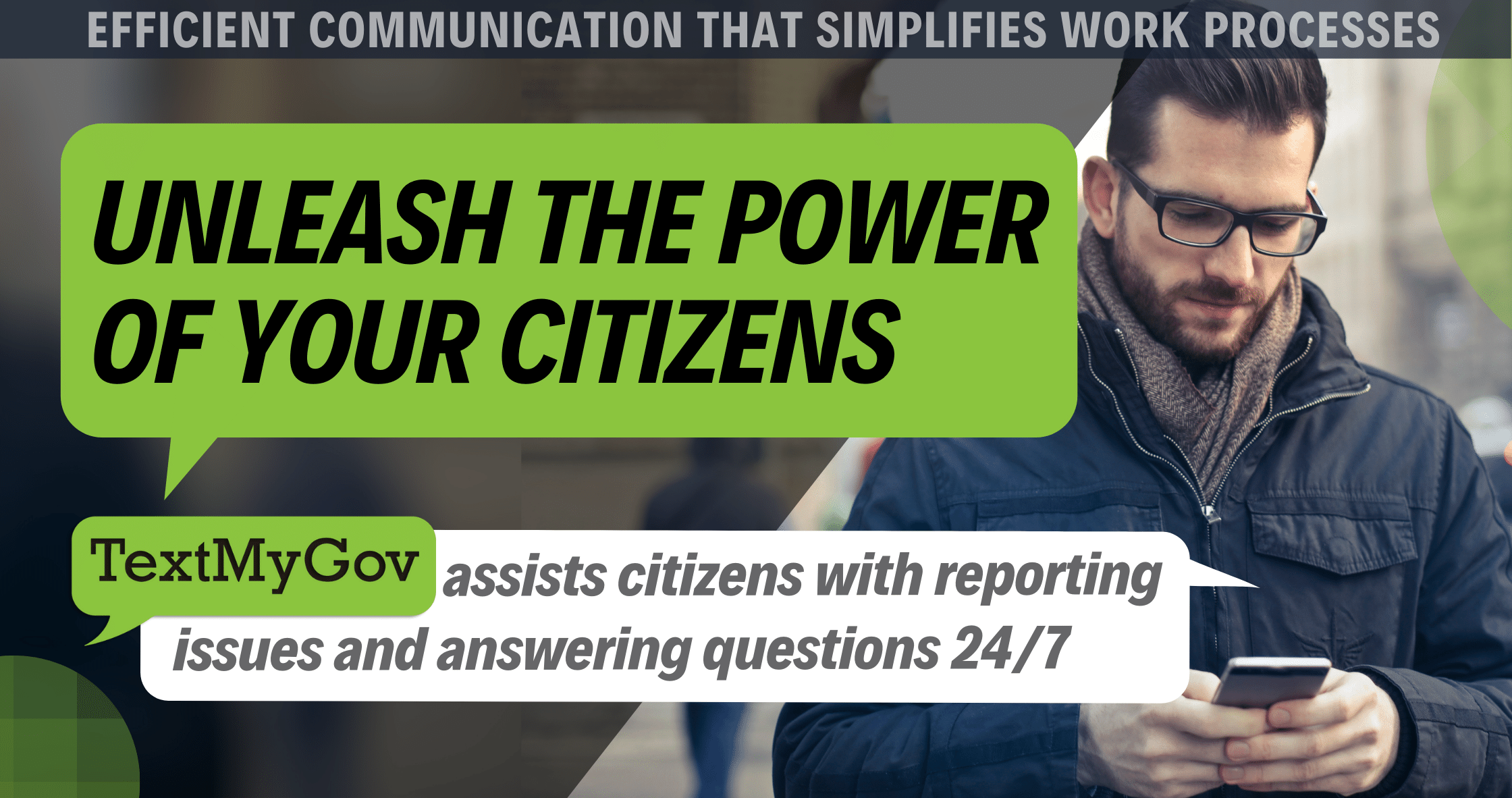 ---
---