TextMyGov is providing a free widget for city websites to Keep Citizens Up To Date On The Coronavirus
---
Cities and Counties can provide accurate and timely information about the Coronavirus
Citizens can make a decision, help their families, contribute to the needs of the community, and be productive at work when they have information. Information on the Coronavirus COVID-2019 is provided nationally by the news, the Centers for Disease Control (CDC), and the World Health Organization (WHO), but citizens need accurate timely information from their City and County officials. This need has been identified by an increased number of calls and questions from citizens across the United States.
---
Easily provide information on your website
TextMyGov if offering a simple link (widget) that can be placed on your website, that can provide information, report local information, and point the public to critical information. This simple solution will allow local government agencies to provide information regarding COVID-2019 cases, as well as other local events, and guidelines. This FREE solution will be provided upon request.
---
Allow Citizens to send text messages for updates
Citizens can text their "City Name" to the TextMyGov hotline to receive up to date information on COVID-19 in their area. This allows citizens to easily access up to date information on demand. This text messaging service is included, but limited to 10,000 text messages per customer.
---
Notification and Alerts (Additional Service)
Additionally, Agencies can allow citizens to submit their phone numbers to receive notifications and alerts. Being able to send out mass alerts is a simple way to keep people informed of COVID-2019. Notification And Alerts are not included in the free service but can be acquired with a TextMyGov service plan.
---
---
---
Keep your citizens updated on COVID-19. Register for the TextMyGov website widget today!
---
Please contact TextMyGov if you have any questions 435-787-7222.
---
/
BLOG POSTED: March 12, 2020
---
---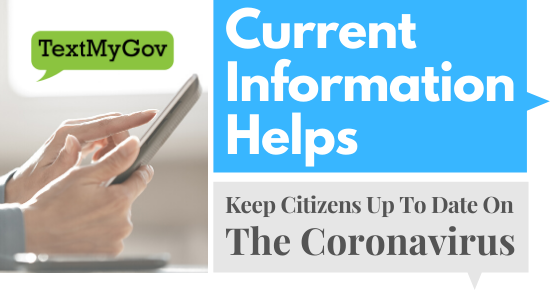 Get the widget on this page for Free