optimize your experience at the 2019 User Conference with this Checklist.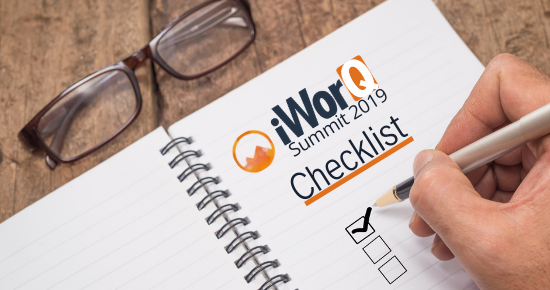 The 2019 iWorQ Summit User Conference is coming up fast. We prepared a checklist to help you stay on top of things and to optimize your experience at the conference.
1. Confirm travel plans: If you haven't already, make sure you book your flight, transportation, and hotel.
2. Make notes of the questions you have about your applications, new things you want to learn & let us know if you need help before the conference.
3. Download YAPP, our conference app on your smartphone or tablet: The app will provide you with useful information such as the class schedule, a map of the conference center, local food & entertainment ideas, and training documents. The app will also allow users to interact, share photos, and win prizes. (Download the app now) with the app code IWORQ.
4. Identify class times and which classes are taught more than once, so you can be sure to participate in all your desired classes.
5. Take advantage of our amazing one on one training, whether you are just starting or are more familiar with iWorQ's software, the one on one training is a great way to further your skill set with one of our trainers. Sign up here.
6. Visit the sales lounge. The lounge is packed with drinks and snacks for you to enjoy and we can show you applications your agency can further benefit from, or just answer questions about your current business processes.
7. Network! Get to know the iWorQ staff and other attendees. Talking to others about their processes and workflow can help you with yours.
8. RSVP for our after-conference excursions. This year we are visiting Zootah for a hands-on experience with wildlife, where a great dinner will be provided. We are also offering rides to see Logan Canyon, Rick's Spring, and beautiful Bear Lake. These spots are limited and are on a first come, first serve basis, so make sure you sign up. Excursions will be after the conference on Wednesday July 31st at 3:30. Click here to sign up for your excursion experience today!
9. Let us know if you have any diet restriction, by filling this form out. We want to make sure you can enjoy the delcious food we will be serving at the summit.
What if you decide not to go on the excursions? Don't worry, there are a lot of fun things to do in Logan. Tripp adviser has an excellent list of trails and hikes. If you are looking to beat the heat, you may want to check out the swim park at the Logan Aquatic Center or cool off indoors by catching a movie at the Megaplex in Logan or Providence or getting a group together to solve puzzles in an escape room at Locked In, throw hatchets at Heber Hatchets or The Fun Park, or go golfing at the Logan River Golf Course, Logan Country Club, Birch Creek Golf Course , or Mini Golf at Willows Golf Park.
If your not registed for the 2019 User Conferance yet, Check out these links to learn more and register today.
---